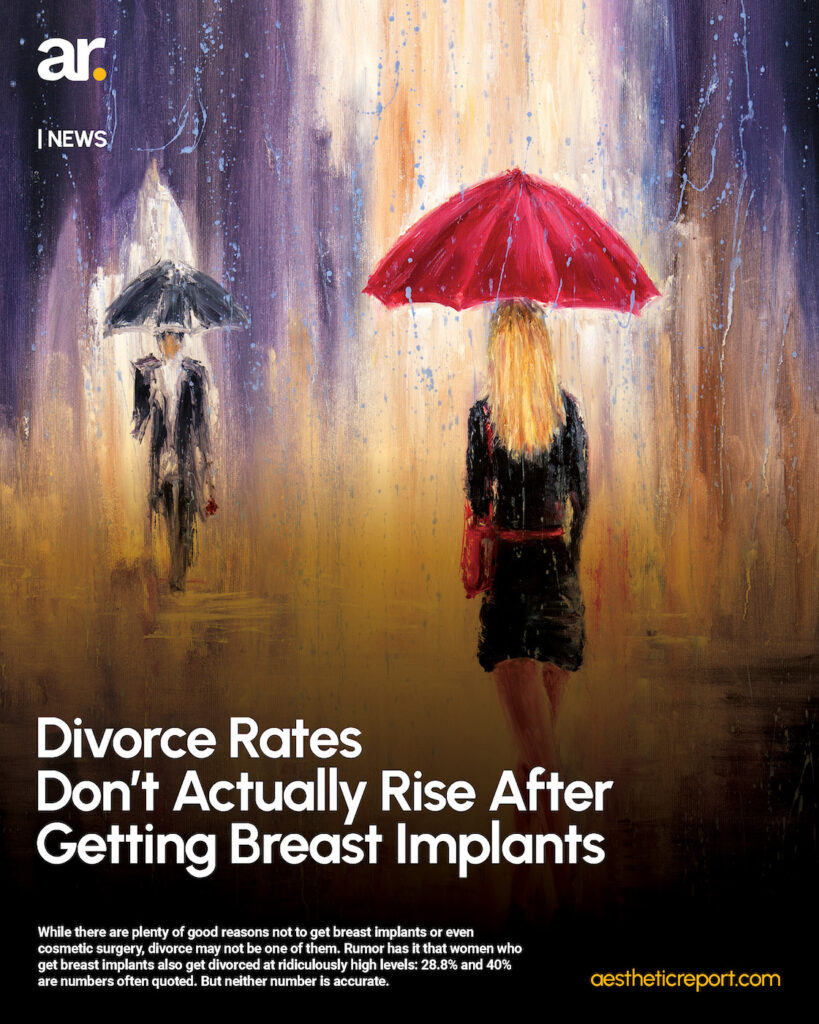 Divorce Rate After Breast Implants
What is the divorce rate after breast implants?
Does getting breast augmentation increase your chances of breaking up?
Rumors say yes (and we'll get into where they came from), but all known statistics say otherwise.
Some studies, like this one from 2020, also suggest that breast implants can do the opposite.
That they can improve a marriage by 80-95%.
"Studies show that breast augmentation surgery increases the quality of marital life in women by 80% to 95%."

"The effect of breast augmentation surgery on quality of life, satisfaction, and marital life in married women…" J Family Med Prim Care, February 28, 2020
Fudged statistics
Rumor has it that women who get breast implants get divorced at ridiculously high levels.
The rumors aren't accurate.
Let's look at the most popular of them.
1. "40% of women with breast implants get divorced" – False
This was never proven by study or survey.
It was popularized by an early blog article that has since been deleted.
The original source of this data 'doesn't exist anymore' (i.e., it was a website since bought out by a large brand.)
Other articles still refer back to this early blog, which, again, doesn't exist and wasn't based on a study or a survey.
2. "28.8% of women with breast implants get divorced" – False
The second most popular stat about women with breast implants getting divorced is also inaccurate.
Unlike the earlier 40% datum, in this one, the data

is

from a peer-reviewed article.
But the article it's based on has been misinterpreted.
What the article actually says is that divorcees [women who are already divorced] tend to get breast implants.
So it's not that women with breast implants get divorced more often, it's that divorced women get breast implants more often.
"28.8% of breast augmentation patients were divorced, separated, or widowed (presumably very few were widowed, given the young average age of the women), relative to 18.1% in the comparison group."

"We must emphasize that although the relative difference in divorce rates between breast augmentation patients and other women is important, the absolute rates of divorce among breast augmentation patients do not appear particularly high." [underscore added]

Thomas E. Joiner, Jr, PhD, "Does Breast Augmentation Confer Risk of or Protection From Suicide?," Aesthetic Surgery Journal, Volume 23, Issue 5, September 2003
The Math Isn't Mathing
If 40% of U.S. women who got breast implants actually got divorced, there would be more than 105,000 divorces per year due to breast implants.
Does that even sound right?
I mean, get implants or don't get implants, but 40% divorce rate?! Not happening.
(Know anyone with breast implants? Did they get divorced after getting them?)
| | | |
| --- | --- | --- |
| Stat | Total | 40% = |
| Total # of U.S. Breast Augmentations (2018-2020) | 793,158 | 317,263 |
| Average # of U.S. Breast Augs per Year (2018-2020) | 264,386 | 105,754 |
If 40% of women who got breast implants actually got divorced, 317,263 angry husbands are awfully quiet, 2018-2020
Are there instances where implants might lead a married man or woman astray?
Absolutely.
But these cases aren't as common as some have been led to believe.
But, they do occur:
Getting Breast Implants After Planning to Divorce
A New York divorce lawyer said in 2011 that in the six years prior, his practice had seen "dozens and dozens" of people who at his office claiming that they should have been able to "see the signs" beforehand.
These people, now separated and in the process of finalizing a divorce, had watched their spouses transform themselves through plastic surgery either on their own dime, or on the family's dime, before eventually filing for divorce.
The procedures they had most often were liposuction, weight loss surgery, hair transplants, and breast enhancement.
(He lists them in that order.)
Some of the married men and women who had gotten plastic surgery evidently came to feel afterward that their spouse had been responsible or was to blame for them having gained so much weight, or for having failed to attend to their own physical features earlier.
A bit of a "since you don't help me lose weight or look good, you owe me plastic surgery" mentality.
So after spending their own money or their shared money on plastic surgery, the now better-looking spouse started to resent and blame their partner.
That blame was one of the things that eventually resulted in divorce filings, said divorce and family law lawyer Bryan L. Salamone.
He predicted (in 2011) that this also was becoming more popular because plastic surgery was getting cheaper and going mainstream.
"These clients says [sic] that when their spouse started to dress differently; enhance themselves physically, either by surgery or augmentation, they should have known that this enhancement was not to improve the marriage but to improve that person's physical appearance and social life post divorce," Salamone wrote.
Salamone then advised: "If you are in a marriage and your spouse is dramatically improving their appearance and enhancing themselves while you are not, ask yourself this: How will that spouse look at me and regard me after they have changed, and is my spouse preparing for life after divorce?"
With the clues above and those to follow, determining whether your spouse intends to divorce you after spending your own and their money on plastic surgery should be a bit easier to determine.
But as far as a bottom line, we can no longer quite say that either breast implants or plastic surgery "cause" divorce in a statistically significant amount.
"Truth be told, there appear to be no hard statistics on the correlation between breast augmentation and divorce."

Stoia, A Marital & Family Law Firm, May 2019
Here's what else we need to know about it:
Revenge plastic surgery
In so-called "revenge plastic surgery," woman may get breast augmentation surgery or another cosmetic procedure after parting ways with a significant other.
Part of the reason that she alone may choose to do so may include showing her former beau what he is now missing out on.
It's a triumphant parting gift to herself.
In this case, breast implants and breast augmentation surgery had nothing to do with the divorce or breakup, but it may have resulted, at least in part, from that former relationship going not quite as planned.
[Men may of course do the same, but we're talking about breast implants, thus our focus.]
Turning a new leaf
Breast augmentation surgery can also mark the proverbial "turning of a new leaf," and breast augmentation and plastic surgery aren't the only way that manifests.
Any effort to improve or change one's physique could be done as part of starting a new chapter in life, or parting ways with the past. Sometimes making a dramatic physical change helps us remove our mind from the past and focus on the future.
And that's not always a bad thing.
Breast augmentation and breakups
Most people, patients, and providers—as well as a few studies—will tend to agree that the key factors about breast augmentation and breakups or divorces include the following:
"Given that nearly 50% of marriages that result in divorce are caused by sexual dissatisfaction, breast augmentation surgery can reduce these statistics."

"The effect of breast augmentation surgery on quality of life, satisfaction, and marital life in married women…" J Family Med Prim Care, February 28, 2020
People who feel they aren't physically attractive are, generally speaking, "more likely to undergo cosmetic surgery," at least according to one study. If the man or woman in a relationship feels they are the less physically attractive member of the relationship, they may wish to have plastic surgery done to ease their mind and feel more on par with their partner.
Men who prefer women with larger breasts, generally speaking, may tend to be "benevolently sexist, to objectify women, and to be hostile towards women," according to another study. This would likely manifest or play a part in instances where the man in a relationship strongly suggests or even demands that his female partner get breast implants.
If a couple can't agree upon plastic surgery—whether to do it or not do it—divorce is one of several potential outcomes, and it is usually an avoidable one. Good communication and truly trying to understand the reasoning behind a partner's desire for cosmetic surgery is extremely important in these cases.
Financial fallout over plastic surgery expenses may cause marital tension, that if left unchecked, could result in divorce. Again, this can be avoided or checked in most cases well before divorce enters the discussion.
Being inanimate (lifeless), breast implants in and of themselves have caused no divorces; but the pressures and disagreements surrounding them have likely caused marital trouble, if not outright divorce.
No specific studies have been done to determine whether breast implants are a cause of divorce or are correlated to it.
No research has found a specific correlation between getting breast implants and rising (or falling) divorce rates.
Some men may fear that their wife is interested in getting breast implants in order to reenter the dating scene, or look more sexually attractive to others.
Some women may find that after getting breast implants they do indeed look and feel more physically attractive. The increased attention from other men may be new and exciting, possibly provoking an extramarital relationship.
If undergoing breast augmentation surgery (i.e., getting breast implants) leads to divorce, there may or may not have been something already strained about the relationship.
Divorce and plastic surgery statistics
One way to get a better understanding of plastic surgery and its relation to divorce or breakups is to look at national statistics.
Let's look at the countries where people get the most plastic surgery procedures, relative to how many people live in that country: The "plastic surgery procedures performed per capita." (Column 2 in the chart below)
Let's then look at the divorce rates in these same countries. (Column 3 in the chart below).
Top 10 countries with the highest plastic surgery procedures per capita:
| | | |
| --- | --- | --- |
| Country | Plastic surgeries per capita* | Divorce rate* |
| Greece | 2,574 | 1,800 |
| Belgium | 1,723 | 2,100 |
| Taiwan | 1,646 | 2,300 |
| Italy | 1,612 | 1,500 |
| Lebanon | 1,328 | 1,600 |
| United States | 1,309 | 2,900 |
| Brazil | 1,216 | 1,400 |
| Colombia | 1,038 | 700 |
| Spain | 1,021 | 2,000 |
| Turkey | 993 | 1,700 |
This chart shows higher divorce rates per capita in at least two countries with lower overall plastic surgery procedures performed per capita.
On a per-capita basis nationally, it's difficult to see a direct correlation between the number of plastic surgery procedures performed and the number of divorces in that country.
The United States has the highest divorce rate of the countries listed, but the 6th highest number of plastic surgery procedures performed per capita.
Greece has the highest plastic surgery procedures performed per capita, but a divorce rate just shy of Turkey, where citizens get 2.5X fewer plastic surgery procedures.
Conversely, we can also look at the countries where the divorce rate is highest.
Maldives tops the list as the country with the highest divorce rate. In this "honeymooner's paradise," the divorce rate is 10.97 per 1,000 inhabitants.
Also in the Maldives, plastic surgery is virtually unheard of. For instance, one doctor claims he is the "only cosmetic surgeon licensed to practice" there, and only a few clinics have an online presence.
While not a definitive, this tends to discredit the concept that divorce rates are directly correlated to plastic surgery procedures, or breast augmentation and implants in particular.
How "revenge plastic surgery" relates to divorce rates
A spouse choosing to have plastic surgery after a breakup or divorce, does not automatically make that surgical procedure "revenge plastic surgery."
However, women and men who do choose to get plastic surgery after a breakup or divorce may be doing it in part to make their former partner regret breaking up with them.
Despite the name given to this sort of surgery, so-called "revenge" plastic surgery isn't always bad. It's helpful for a person wishing to have cosmetic surgery to carefully consider the reasons they are having it.
Just as importantly, he or she should also carefully consider the decision process that brought them to where they are now.
While the decision to have or not have plastic surgery is a patient's chose alone (assuming an experienced and qualified surgeon also agrees to operate on him or her), some examples of both "good" and "bad" reasons to get plastic surgery are worth looking over:
Should I get plastic surgery? Examples of a possibly poor decision process
Decisions to rush plastic surgery are bad decisions. Always.
Getting plastic surgery in order to look like someone else (such as a celebrity) is a bad idea for adults and a horrible idea for teenagers. But celebs and other public figures are good reference points for plastic surgery, since many are attractive and great photos of them abound. (Wanting to look "like Carmen Electra," is different than using her public pics to show your surgeon what you think great breast proportions look like.)
Life-changing decisions made as a result of other life-changing event are usually best postponed until one's head is clearer.
Yet there are numerous reasons why a woman or man might want to get plastic surgery after a breakup or divorce, which reasons have nothing to do with creating an emotional effect on their former partner.
Plastic surgery, for some patients, can help mark the turning of a new leaf, or the beginning of a new phase or chapter in one's life. Because surgery (like many other more natural changes, such as changing one's diet or lifestyle) can produce a dramatic difference in the way a person looks or feels about themselves, the changes brought about through surgery can help start or solidify that so-called "new life."
Will my wife divorce me if I ask her to get breast implants? Will my husband divorce me if I get breast implants?
These are valid questions and concerns for which there is no prepackaged answer.
But there are some pointers that spouses may find helpful.
Plastic surgery should be discussed between marital or sexual partners in one of two ways:
Very respectfully
Not at all
Talk to your spouse about plastic surgery a bit like you would talk to him or her about sex and having children.
That may not at first appear to be the most helpful advice, but it holds true for the most part so let's look at why.
When monogamous people get married, they agree (among other things) that they will only have sexual relations with one another. Should your sexual desires change, a conversation is probably called for. Just as a conversation would be called for if you decided one day you wanted to have children.
Plastic surgery is similar but different.
Similar in the sense that if your attractions have developed since you got married, that's likely something your partner should be aware of.
Different, very different, in the sense that were you to suggest your wife (or husband) gets cosmetic plastic surgery, you're suggesting that he or she do something to his or her body alone (and often, mostly for the other partner's benefit).
Unlike new sexual positions which you may both appreciate, and unlike children, whom you'd both be raising, plastic surgery is an intense ordeal for whoever gets it, whether that be husband or wife.
But part of most monogamous relationships is also the stated or silent agreement that a) you will go to your partner alone to fulfill your sexual needs, and b) that your partner will do their best to fulfill those needs.
Approach it lightly, keep it open and playful, and always be respectful of your partner's decision if they say no.
If your wife wanted you to get a penile enlargement, how would you prefer she go about telling you that?
Aside from the carefully chosen words she might come up with, how would you take the fact that she was asking about it at all?
Would that be easy to stomach?
She probably feels the same about your suggestions that she get breast implants.
Am I not good enough? Is my manhood not manly enough for her?
There's a lot to consider here!
Is your flow of communication and conversation open enough to discuss these things? Because in the end, more than anything else, it's that communication and understanding that may make the difference between a growing and loving relationship and a divorce.
So while breast implants don't cause divorce, they do touch on hot topics that have to be carefully handled.
Handle that conversation poorly and her not wanting to get breast implants could cause divorce in an entirely different way.
Disrespectful, demanding and pressure-filled conversations about breast implants could cause another kind of friction altogether.
Be a gentleman. Don't let breast implants be the bags that broke your marriage's back.
And if your spouse wants breast implants and you're worried about divorce, it's helpful to know that the popular statistics about that were mostly inaccurate.