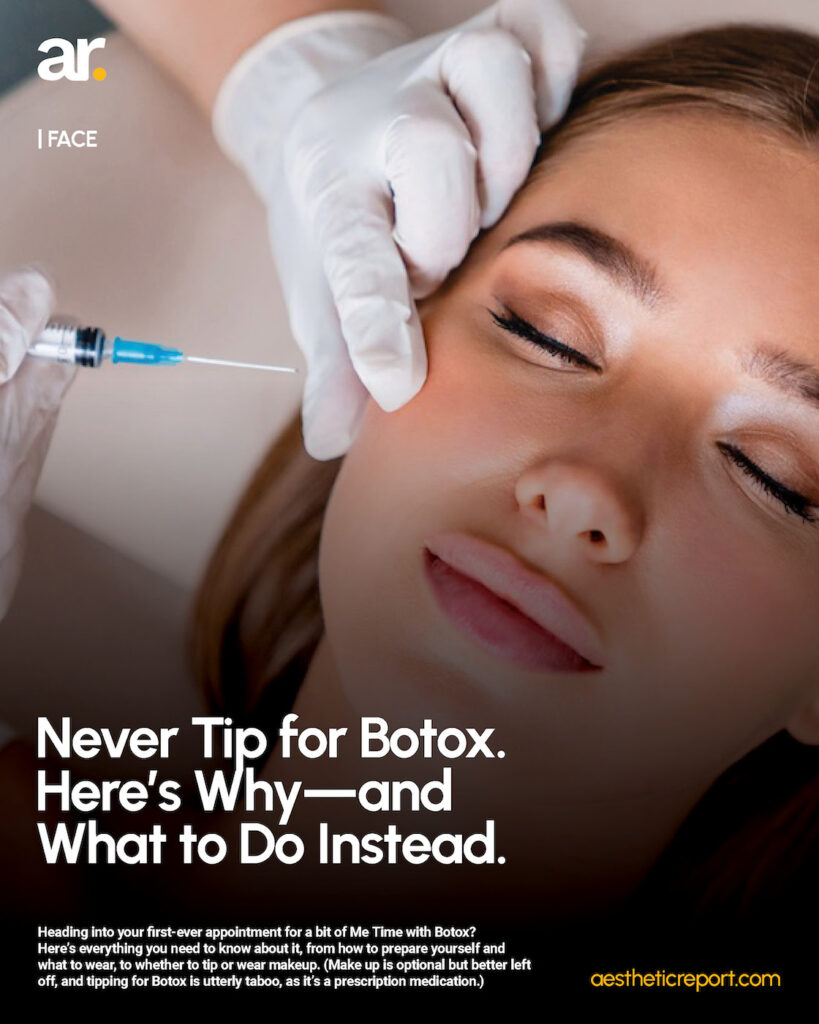 Botox Appointment Etiquette
Heading into your first-ever appointment for a bit of Me Time with Botox?
Here's everything you need to know about it, from how to prepare yourself and what to wear, to how much to tip and whether you can wear makeup.
Makeup is optional
Botox is administered to a clean face free of makeup, so any makeup you do wear for the day will have to come off prior to your injections.
That doesn't mean you can't wear makeup at all on the day of your appointment, because you definitely can.
It just means that you'll be leaving your Botox provider without any makeup on.
It'll have been cleaned off by you or your provider prior to getting the injections.
That's because the skin is prepared in advance and wiped, usually with rubbing alcohol, to remove as much of the possible irritants and bacteria as possible.
So rule #1 is you can wear makeup on the day of your Botox treatment, but you won't be walking out of your injector's office with it still on.
Have a Botox sesh planned for mid day or after work? Perfect, wear makeup up until that time.
Wear almost anything you want
There are surgical and nonsurgical cosmetic procedures that you'll want to dress down for.
Botox isn't one of them.
You can wear almost anything you want to a Botox appointment.
Because only your face is treated during Botox, there's no real need to avoid any particular type of clothing, other than those that would make your face and neck hard to access.
A button-down blouse is perfect. So is a tank top. Or a business suit you can take the jacket off of.
You're last coffee should be at T-minus 24 hours
You'll want to avoid excess caffeine for 24 hours prior to a Botox appointment.
Providers vary in their rules on this, but most allow patients to enjoy up to 2 cups of coffee in the 24 hours prior to a Botox appointment.
They want you to avoid caffeine, so energy drinks come under the same rule.
Too much caffeine can raise your blood pressure and contribute to bruising.
So two cups of coffee at most is best.
What you'll have to tell them
Like many medical service providers, your Botox injector will ask about your health history, including whether you're currently on any medications, and what else you've tried to reduce the wrinkles on your skin.
Overall, none of the questions are particularly invasive or ultra personal. They're only there to make sure, for example, that your provider isn't unknowingly injecting someone with Botox who's pregnant or actively nursing.
Honesty will get you the best results and help you avoid some of the rare reactions that can occur in certain patients who get Botox.
Your image after your appointment
You came for Botox to look good long-term, but you'll walk out of your provider's office with a few blemishes that'll go away on their own within a few hours.
The most noticeable of these are small red dots in various areas of your face. They're small specs (or bubbles) of red coming from the injection points your provider used.
How much to tip for Botox
Don't tip for Botox, and avoid practices or providers that seem to welcome or expect them.
Because Botox is a prescription-only medication—even if it's being used for cosmetic purposes—tipping for it is utterly taboo.
Of course, if you're blown away by your provider's skill and superior service, you'll want to show them your appreciation.
The best way to do so is to be effusive (that means show them how mind-blown you about your results and their care), and then to leave a great review(s) for their practice online that doesn't sound like it was paid for.
That's a difficult line to avoid crossing, but for the sake of your review being helpful to others, tone down any extreme hyperbole and exclamation points.
A good review provides details about pre-op care, how the treatment went, how you felt, and what you [and others?] thought about your results.
A good review also mentions a specific provider by name.
Google and Yelp are typically considered the best places to leave reviews for a med spa or plastic surgery practice.
Thank You cards are another way to show your recognition and appreciation of next-level care.
When you can take a rest
Because Botox and other neuromodulators are injected into specific muscle groups of the face, a conscious effort has to be made to ensure it stays there and does its job.
Neither you or your injector want that product moving around, which can happen if you lie down too early, vigorously move your face, or bend down for long periods of time.
After Botox injections, don't lay down for three (3) hours to avoid the injected product from moving around in your face.
It's unlikely to happen, but when it does, it doesn't look pretty.