Foods to Avoid After Plastic Surgery
Plastic surgery procedures are difficult and taxing on the body. Your body needs better-than-usual food and nutrition to recover.
In fact, by some estimates, your body needs five times your normal nutritional intake for optimal recovery after surgery.
With general anesthesia, pain medication, constipation, full body soreness and pain, "eat better" and "get more nutrition" is much easier said than it is actually done.
We're going to help you with that. These are the six key "food types" if you will, that should be avoided after plastic surgery.
And we'll follow it up with a list of what you can eat, with specific examples.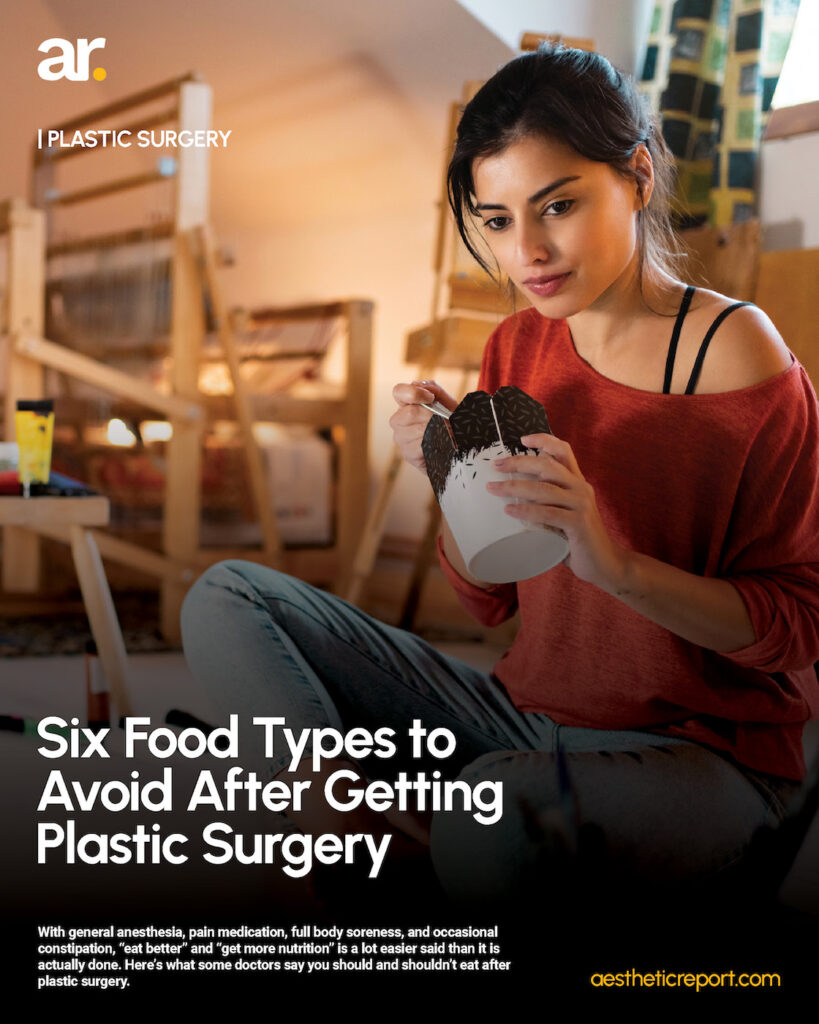 1. Avoid: Salt and salty foods
Consuming too much salt or salty foods will cause your body to retain fluid. That's something we do not want before or after plastic surgery, as it will prolong the swelling and puffiness that always occurs in and around any incision made into the body.
Not only is excessive fluid retention not necessary for your surgery or recovery, it will actually cause your final results to not be visible for longer. You'll look puffier and more swollen after your surgery if you take too much salt (sodium) in the form of tablets or supplements, or if you eat too many salty foods.
2. Avoid: Restaurant food
Restaurant foods are notoriously high in salt and sugars, and are best avoided after plastic surgery. Beyond the obvious additional physical stress involved in going out to a restaurant while you are recovering, most standard restaurant dishes are not your best bet when it comes to recovery. If you do go to a restaurant, or if a friend offers to go for you, chicken or steak salads are a great option, as are lean meats. Restaurant-served soups are likely to be too heavy on the salt.
"Meals from Chinese restaurants, Mexican restaurants, and American chain family restaurants (like Chili's and Applebee's) as well as any fast-food restaurants are the worst. They are loaded with sodium."

Dr. Anthony Youn, MD, in The Age Fix, p. 118 © 2016
3. Avoid: Packaged/Processed foods
Baked goods, snack foods, cupcakes, cereals, and pre-made lunches and dinners are not ideal during plastic surgery recovery. In an ideal world, you would be choosing the base ingredients and cooking or preparing them yourself (or with the help of a friend), though this may not be possible during your recovery.
4. Avoid: Fast food
At the top of the list of foods to avoid after plastic surgery is fast food! Avoid it for at least a month after your plastic surgery. Why? Fast food is extremely high in sugar, and salt, and extremely low in anything of real nutritional value.
5. Avoid: Sugar and sugary foods
Sugar does plenty of wrong in the body, but most applicable to plastic surgery, it does two things, neither of which are beneficial:
Sugar suppresses your immune system
Sugar promotes inflammation
Aside from suppressing your immune system, sugar is just about the worst thing you can eat for your skin, and it causes wrinkles (Youn, 2016).
6. Avoid: Soda, energy drinks, and alcohol
One of the very worst things to consume after plastic surgery or any surgery for that matter, is soda. And that includes energy drinks like RedBull, Monster and others.
In the long term, soda consumption will greatly age you by altering your chromosomes and impacting cellular regeneration. And in the short term, soda will flood your body with so much sugar that it can impact the pH of your blood and body, and cause insulin spikes, which contribute to inflammation and immune system suppression as discussed earlier.
For most plastic surgery patients, soda will be the number one of source of sugar, and thus the #1 item on their list of foods to avoid after surgery.
So, what can I eat?!
If this list is stoking fears that there's nothing you can eat or that anything you eat after plastic surgery is bad, let's look at some things you can not only eat, but that are great for your recovery:
Fruits high in vitamin C: Berries, melons, citrus, broccoli, cauliflower, and brussel sprouts.
Foods high in vitamin E: Nuts (almonds, hazelnuts, peanuts)
Fish, shrimp, tofu, tuna, cod, salmon
Whole grains (Whole-wheat bread/toast, brown rice, whole-grain oatmeal/cereal, whole-grain pasta)
Protein: Hard boiled eggs, scrambled eggs, steak, chicken and chicken broth.
The best diet after plastic surgery is one of…
During a plastic or cosmetic surgical procedure, incisions are made into and through multiple layers of tissue, muscles are moved and manipulated, and skin is often excised (cut out or off), such as in a facelift, arm lift, neck lift, and other body contouring procedures.
What this stress and harsh healing period means for you is that one of the best things that you can do to prepare your body physically for plastic surgery is to adjust your diet as needed so that it includes foods that help you to recover, and omits foods that slow or prevent recovery.
The best diet after plastic surgery is one of:
High protein, low carb, and low sodium for a week after surgery.
Soft foods are advised, particularly after facial plastic surgery (facelift, and rhinoplasty) as well as after any plastic surgical procedure that was done under general anesthesia (until your stools have returned to normal flow and form.)
Specifically, protein shakes, eggs, cottage cheese, soups, broths, and yogurt are all great options for recovery.
Important takeaways
We discussed plenty of food types on this list that are best avoided after plastic surgery in order to promote recovery and results. The key takeaways from this list are the following:
Do not smoke after plastic surgery
Do not drink alcohol, soda, or high-sugar energy drinks after plastic surgery.
Avoid fast food, prepackaged food, and most standard restaurant dishes after plastic surgery
Avoid salt and sugar, and salty and sugary foods after plastic surgery.
High protein, low carbohydrate, soft and easily digestible foods are best after plastic surgery, and these include: Soups, broths, lean meat and fish, cottage cheese, eggs, yogurt, fruits and vegetables.
References and resources