Beverly Hills plastic surgeon Sheila Nazarian is one of the best plastic surgeons in America, according to a national survey of surgeons just released, June 4, 2023, by Newsweek magazine.
The Emmy-nominated Netflix star, unapologetic advocate, and Nazarian Institute founder wasn't just voted as one of America's best, but the best in all surgical procedures that surveys were conducted about.
Some 2,000 plastic surgeons and related medical professionals from across the nation were asked to vote on the best plastic surgeons in five different procedures.
Colleagues say Nazarian qualified as one of the best in all five procedures.
Dr. Nazarian, with 872,000 followers on Instagram alone, is also an influential voice in the aesthetics space, and the founder of TheSkinSpot and her own private practice plastic surgery clinic in Beverly Hills.
She teaches plastic surgery as an assistant professor at SoCal University, is invited to speak internationally multiple times per year, according to her website, and is a guest author on multiple platforms including Newsweek itself, The Daily Caller, Jewish Journal, Jewish News Syndicate, and the Times of Israel.
2,000 Surgeons and Med Pros Placed 8,000 Votes
Newsweek magazine says it surveyed more than 2,000 plastic surgeons and other members of the medical profession, ultimately receiving more than 8,000 votes from them on who the best in the business really are.
The media powerhouse conducted their surveys with Statista R, a data insights and survey company that uses similar methods to rate the best hospitals, vehicles, and other facilities.
These industry-insider looks can be helpful to patients and others who may never see more than a single specialist—and how do you honestly claim your surgeon is "the best" if you've only ever been to one surgeon?
That's where votes from other plastic surgeons can be helpful. They live in the world of plastic surgery 24/7, and usually know a good look when they see one.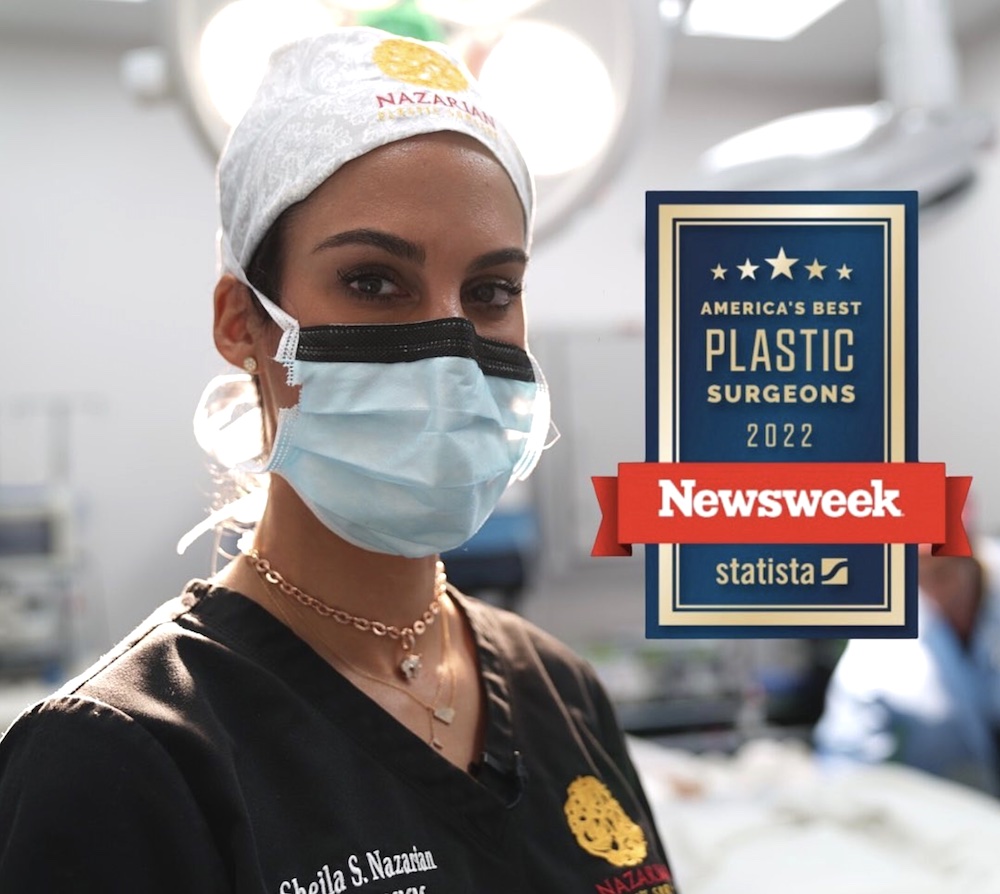 Best of the Best
While congratulations are in order for every surgeon awarded—and many who weren't—Dr. Nazarian is one of fewer than 50 who were basically voted the very best of the best.
In total, 350 of the nearly 8,000 practicing plastic surgeons in the US were selected as the best.
Some were voted the best in a single surgical procedure, like breast augmentation, while others were voted the best in 2-3 procedures.
Less than 50 plastic surgeons in all were voted as one of the best in each of the procedures votes were collected for.
Dr. Nazarian was voted by her peers as being one of America's best plastic surgeons in each of these procedures:
Breast augmentation
Liposuction
Rhinoplasty
Facelift surgery
Eyelid surgery
Board-Certified
Dr. Sheila Nazarian is a board-certified plastic surgeon, courtesy of the American Board of Plastic Surgery.
The American Board of Plastic Surgery's accolades are typically considered a sign of the highest standards in education and experience, often signifying an additional 5-7 years of training, education, and apprenticeships.
In California, where Nazarian and several more of the best plastic surgeons practice, any doctor can legally provide plastic surgery to patients.
Even if they haven't been specially trained to do so.
It is legal for dentists, pediatricians, or anyone else with a valid medical license (MD) to do the surgeries, but without board-certification, there's no way to tell what the results are likely to be, or how well equipped a surgeon or practice is to deal with complications that may arise mid surgery or after it.