Though it is most often done for purely cosmetic reasons, breast augmentation is a major surgical procedure.
After your breast augmentation surgery, you will likely not want to move too much due to the physical discomfort and deep soreness that sets in as a result of the surgery and anesthesia.
While some plastic surgeons advise not showering for as many as 48 hours after breast augmentation surgery, you should be able to do so 24 hours after your surgery.
If your plastic surgeon gives you specific directions in regard to showering after surgery, you should follow those directions closely.
When surgeons suggest you wait for 48 hours after breast augmentation surgery before showering, they are doing so because it takes approximately 48 hours for your incisions to close.
Showering after breast augmentation surgery
If your surgeon has given you the go-ahead to take a shower whenever you feel comfortable doing so after surgery, there are a set of suggestions you will want to follow to make your shower as painfree and comfortable as possible.
Showering "incorrectly" after breast augmentation surgery could cause you great discomfort and, in some cases, lead to infection.
How to shower after breast augmentation surgery
You've just had your breast augmentation surgery and are ready to shower.
Whether this is 24, 36, or 48 hours after your surgery, you should observe the following guidelines while showering:
1. Remove only part of the dressing.
Gauze can and should be removed prior to showering, but leave on and in place any skin tape or steri-strips that are covering or closing any incisions.
2. Take a shower, not a bath.
Your first several showers after breast augmentation should be classic showers; the type where you stand up and have water running down on you from above. You should not take a bath, nor should you get in a hot tub or pool during this time (for at least four weeks). Stick to a regular shower that follows the rest of the steps here.
3. Check shower temperature before getting in.
As your body is healing and has newly formed incisions, you'll want to avoid any and all jerky or abrupt motions, specifically of your upper body. One place those abrupt motions can occur (as well as involuntary contractions, such as from water that is too cold or hot) is the shower. Be sure to check the temperature of your shower's water before stepping in.
4. Shower in cool but comfortable water.
Showering in hot water may contribute to inflammation. Understandably, however, showering in cold water is outright uncomfortable for most patients and it will most likely lead to involuntary movements that aren't great on healing either—shivering. Aim for a cool or lukewarm shower if you can do so. Find a comfortable temperature that isn't scalding hot, even if that's typically your preferred temperature.
5. Don't shower as a "test" of your postoperative strength or mobility.
In the days following breast augmentation surgery, patients are typically advised NOT to be immobile or lying down all day, and to spend some time daily doing light exercise. Walking is specifically advised, but any very light motion is usually acceptable and necessary for proper healing. Patients will and should gradually start to engage in this very light exercise, or ambulation (movement), and not move too steeply into it.
Take it slow and ease your way into new movements and motions as you gain familiarity with what you can comfortably do during this recovery period.
Showering isn't an extreme exercise, but is a brief period of busy activity, stretches, and movements, all taking place on a wet floor. So it's just a bit riskier than, say, moving around in the kitchen or living room. So, take it slow and ease into showering when you're sure you can handle it. For most patients, this is 24-48 hours after surgery.
6. Shower gently.
If you are taking pain medication after surgery, you may not fully realize how much pain your body is in, nor how much pressure and force you are placing on your newly closed incisions. Therefore, you should shower gently. Make slow and careful movements, particularly when it comes to your upper body.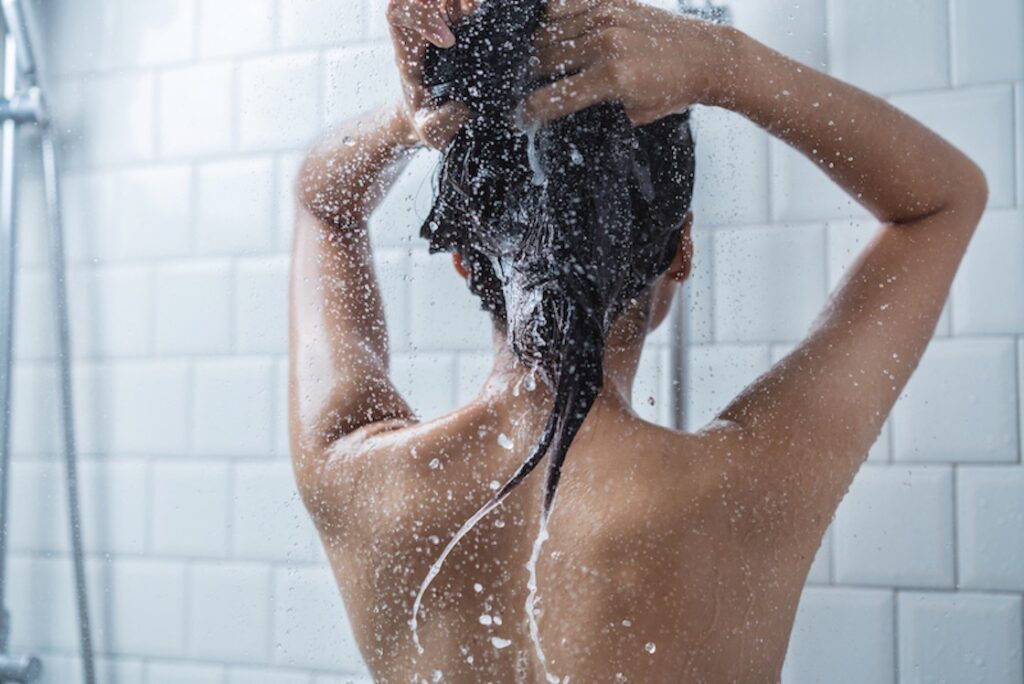 7. Don't lift your arms over your shoulders.
You may want to forgo washing your hair if you can do so, but if you feel you must, bring your head down to the level of your shoulders, rather than raising your arms over your head. The motion involved in raising your arms over your head is not recommended throughout the time period you are recovering from breast augmentation surgery.
"Don't lift your arms over your head while showering after breast augmentation surgery. Instead, postpone washing your hair, or bend your neck and bring your head down toward your arms."
8. Don't scrub your incision sites.
Instead of scrubbing your incision sites, merely allow some water to run over them. You can clean the area lightly with soapy water, providing your incisions are closed. If your incisions are not fully closed, avoid getting them wet at all.
9. If you begin to feel dizzy, turn off shower and support yourself.
It is rare but very possible that the strains, motions, and heat generated by a warm shower could leave you feeling dizzy, even if ever so briefly. Have a plan for this before getting into the shower. The best plan is usually to not shower until you feel up to doing so physically, and to support yourself against a stable stationary object if dizziness does occur. If your shower is equipped with accessibility features, such as bars and railings installed at waist height, they can support you. Fainting and extreme dizziness are rare, particularly if the other points here are closely followed, but having a plan in place if dizziness does set in is usually very helpful.
10. Pat yourself dry.
When you've completed your shower, use a clean towel to gently pat yourself dry. It's most helpful (if it is possible), to have a significant other help you dry off after a shower. If this isn't possible, just like you did in the shower, move gently and slowly, and avoid bending your arms too much. This includes things like bringing your legs upward rather than bending your back and arms downward. It may help to bring each leg up in turn onto a raised surface, to help you avoid bending over or stretching your arms too far.
Air drying, while wrapped in a towel or two, may be your best and most comfortable option if this is your first shower after breast augmentation surgery.