Twenty-twenty-one. One of the wildest and most unpredictable years on record was closed out just over three months ago.
It was the first year that TikTok became the world's most popular website and the year Americans and others abroad spent inordinate amounts of time at home, socially distanced, and on virtual video conferencing calls.
Faces were front and center at work–and on huge and high-def computer screens at that, and other parts of ourselves were displayed on social media in record numbers for the world to see.
And not that it is a driving factor for everybody, but 2021 was also the year that OnlyFans blew up big time, so much so that the London based company had to tone things down. Or at least told shareholders as much before reversing the ban.
When a year like 2021 ends, it takes some time to collect and crunch the numbers. The first of four professional plastic surgery societies has since done so, recently releasing their official statistics report for the year 2020.
Statistics from the Aesthetic Society and numerous other sources suggest that yes, in fact, plastic surgery is more popular than ever. According to multiple official sources, here are the top plastic surgery trends and statistics that mattered the most in 2021.
1. Liposuction was the Most Popular Plastic Surgery of 2021
In 2021, 491,098 patients had liposuction and costs of the procedure represented 13% of the revenue generated for surgical procedures. While more people had liposuction that did breast augmentation of tummy tucks, because the latter two procedures are more costly to patients, liposuction generated less total revenue despite more procedures done for more patients.
2. For Every Day of 2021, 1,000 Women got Breast Implants
With a combined total of 364,753 women getting breast implants to improve, revise, or modify the shape, size, volume and contour of their breast, breast augmentation surgery was the second most popular plastic surgery procedure of the year. Breast augmentation has traditionally been the single most popular plastic surgery procedure–for about the last 15 years–but in recent years has tapered off every so slightly. Somewhere in America today, nearly 1,000 women are getting breast implants for the first time in their life.
3. For Every Day of 2021, 600 Women Had Their Breast Implants Removed. One in Three Patients did so Permanently.
As breast implants are not lifetime devices, removal or removal and replacement are often required. Implants typically require replacement about every 10-12, or even 15 years, though most surgeons don't advise doing so unless something is known to be wrong with the implants—such as capsular contracture, rupture, rippling, or gel bleed.
For every day in 2021, 599 women had their breast implants taken out for a total of 218,968 women in all, but only one-third of those women (71,284) had their implants removed permanently. The remainder of the women (147,684) had new implants put in after the old or earlier set were removed in surgery. The removal and replacement of breast implants can be done in a single surgical session. If a patient desires to dramatically increase the size of their breasts, implants may be placed over time in incrementally larger sizes, necessitating more than one surgery.
After liposuction, breast augmentation was the second most commonly performed plastic surgery procedure for women in 2021, and breast implant removal and replacement was the fifth most commonly performed procedure. For women between the ages of 17 and 35, breast augmentation surgery was the most popular procedure of the year.
The most popular age range for breast augmentation surgery patients was 17-35.
4. Three (3) of the 6 Most Popular Plastic Surgeries this Year Were Breast Related
According to the Aesthetic Society's hot off the press report on popular plastic surgery procedures and other related statistics for the year, three of the six most popular plastic surgery procedures were related to breast enhancement. Breast augmentation led the trio with more than 491,000 procedures for the year, followed by breast lifts, of which 167,000 were done, and in third place of the breast procedures and last on the list of the six most popular procedures was breast implant removal/replacement.
5. 2021 was the Deadliest Year on Record for BBLs
When CBS6 South Florida reported April 11, 2022, on the rise of deaths following the ever-popular BBL surgery, a board-certified plastic surgeon shared a startling discovery. In a video accompanying the article (titled "Brazilian Butt Lift Deaths on the Rise, Despite Efforts,") Dr. Pat Pazmiño, a Miami-based plastic surgeon says the following: "We were very surprised to find that in 2021, more people died from the Brazilian butt lift than any other year before." Owing to surgeons who aren't board-certified and who evidently fail to maintain sufficient safety protocol, the procedure's reputation continues to be, well, deadly. Patients can dramatically improve their odds of success and safety during a BBL quite readily, and it begins with leaving bargain basement surgery and chop shops out of the picture.
6. The Number of Facial Procedures Done Increased by 55%
Whether they work within the same city or state or are spread across countries, Zoom video conferencing has been a staple of employee communication for the past two years. With this comes the reality that never before have we starred for so long at so many on such high-definition screens. Wear the chicest clothing and the most meticulous makeup, and the face may still be the focal point for friends, colleagues, bosses, and clients. With that so-called "Zoom Boom" has come a dramatic increase in the number of facial procedures being performed. In 2021, they are up 55 percent.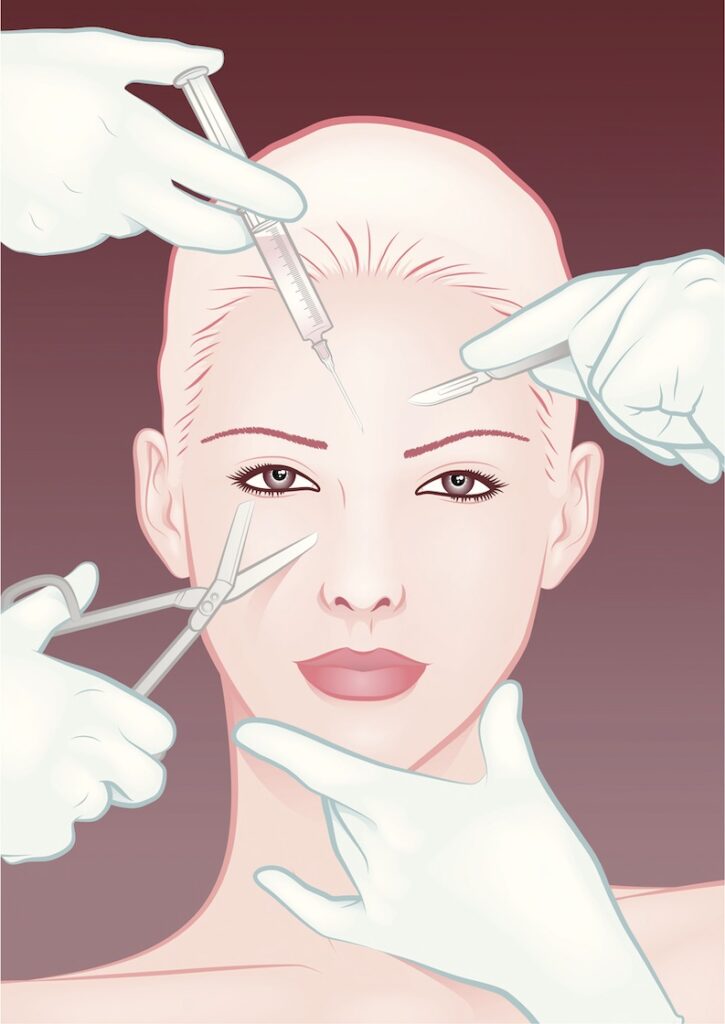 7. Facelifts Were the Most Expensive Procedure of 2021
Of the 40 procedures for which statistics are tracked and reported by the Aesthetic Society, facelift surgery was the most expensive. At an average surgical fee of $9,127, facelifts in 2021 were more costly than all other elective cosmetic surgeries, including breast reduction, rhinoplasty, breast augmentation, and excess skin removal surgery.
8. Younger Patients Yearned for Facial Plastic Surgery
A yearning for facial plastic surgery swept over a more youthful crowd in 2021. Facial plastic surgery procedures that are typically done on patients aged 50-70 were demanded by younger patients in 2021, says a multitude of U.S. plastic surgeons and The American Academy of Facial Plastic and Reconstructive Surgery. According to the 0Academy, the demand for facial plastic surgery "skyrocketed," with a 40 percent increase in facial plastic surgeries in 2021.
Double board-certified plastic surgeon P. Daniel Ward, MD, FACS for one, says he is performing more and more facial rejuvenation procedures on patients aged 30-50, which Ward says would typically be performed on (and requested by) patients aged 50-70.
9. Gastric Sleeve Surgery was the Most "Worth It" Procedure of 2021
Sleeve gastrectomy, aka gastric sleeve surgery, was rated the most "Worth It" procedure of the year. Each year patient ratings for more than 50 different surgical and non-surgical cosmetic procedures are rated by thousands of patients on RealSelf.com. Early in the following year, RealSelf then reviews these ratings and publishes their list of the 20 procedures that patients were most satisfied with. For 2021, that procedure–like liposuction, the most popular procedure of the year–was directly related to weight loss. Gastric sleeve surgery is a procedure during which a qualified surgeon shrinks the stomach by as much as ninety percent. The procedure significantly reduces the amount of food that a patient can eat, thus making weight loss easier.
10. 77% of Surveyed Surgeons said Selfies and Social Media Drove Patient Desire for Surgery
When the American Academy of Facial Plastic and Reconstructive Surgery (AAFPRS) surveyed some of its 2,200 members nationwide, in December 2021, numerous eye-opening trends were revealed. One of the most pertinent to 2021 and the increased isolation it brought related to social media and selfies. A full 71 percent of those surgeons surveyed said that "selfie awareness" was a driving factor for patients who opted to get plastic surgery. And that was up 35 percent over the first year the Academy had identified social media and selfies as a powerful force for patient persuasion, in 2016.
11. In Just Half of 2021, Nearly $9-Billion was spent by Americans on Plastic Surgery
While all early evidence suggested that 2021 would be one of the biggest years on record for plastic surgery due to a spike in virtual video conferences and increased downtime for recovery, no one quite knew how dramatic the increase would be. By mid-year, the Aesthetic Society had discovered that from January to June of 2021, nearly $9-Billion had been spent by Americans on plastic surgery, making 2021 the year that plastic surgery was most popular–and profitable.
12. Surgeon's Fees for Plastic Surgery Procedures in the U.S. Reached $14.625-Billion in 2021
In all, throughout the year 2021, a total of $14,625,066,046 was spent on surgical fees for plastic surgery procedures in the United States. (That's $14-billion, 625-million, 66-thousand, and 46 dollars.)
And while that's quite a pretty penny, here is how U.S. plastic surgery revenue compares to other industries and spending habits.
13. The United States Remained the Country Where the Most Plastic Surgery was Performed
Despite the U.S. population comprising just 4.25 percent of the world's total population, America is home to more practicing plastic surgeons than any other nation in the world. The United States has more than 7,000 plastic surgeons, with California, Texas, New York, and Florida being the four states where the most plastic surgery is performed.
More plastic surgery procedures are performed within the United States than in any other country in the world. And, the United States also tops the list of countries where the most non-surgical procedures are done. Of the more than 10-million elective cosmetic surgeries performed internationally, 1.4-million of them were done in the United States, according to the International Society of Aesthetic Plastic Surgeons.